Okay, I don't know for you and your country, but in France, we just entered Christmas Eve day. For a few days (probably more than two weeks), we'll keep silent and take a break with family. But before we leave, we wanted to say a few last things about the campaign.
We know it's taking a bit longer than expected to get this campaign done. In fact, this is taking way longer than expected. At first, we thought we could have a release for the end of the summer, eventually it didn't happen. Then, we thought we could do it for November, and we worked at a fairly sustained pace to keep up, but eventually it didn't happen either. Finally, we thought we could finally have a release for Christmas (that would have been awesome), but you guess it, it still won't happen for a number of reasons.
There was the great debacle of the Left 4 Dead Authoring Tools, that didn't helped us as soon and as much as expected since most (if not all) of the components Valve initially promised never really showed up. But that's OK, we didn't really care anyway. Then, each one of us got back to work or school after summer, and as we're all at the beginning of our professional life or at the end of our scholar life, it consumes a lot of our time. But that's OK, we could bare with it. Finally, there was the big disappointment and excitation around the release of Left 4 Dead 2, which sucked up a lot of our time and motivation and brings us to the second point.
To be honest, at that point, we really thought it was time for us to give up. Until a week ago, as a leader I wasn't really sure if we were still headed somewhere at all. We saw the numbers, we saw Left 4 Dead 1 leaking players faster than ever, we saw it fall behind Counter-Strike: Condition Zero, the Garry's Mod, and even regularly Day of Defeat: Source, which hasn't even been supported for years (July 2008). Even us weren't playing Left 4 Dead 1 anymore, that really frightened us to hell to think that our project was already obsolete before its completion. Valve really didn't left us enough time to build something serious.
For your information, on the official Left 4 Dead Mailing List a few beta-testers are talking about the upcoming Left 4 Dead 2 SDK. Let's be honest, for the moment it looks particularly promising, but then again, if we really want to be honest, the SDK of the first one looked promising too and nothing happened. For a while, we considered switching to Left 4 Dead 2, finish our campaign and wait for the SDK to be released (OK damn, the SDK was released while I was writing this news, so… everything might change again, except the following statement). Don't freak out though, because we made our decision. I Hate Mountains will be released on Left 4 Dead 1 or won't be.
Okay, now that things are getting clearer, here's a bit of information about our progress. Basically, it's finished. Now, when I say "it's finished" I mean that the whole campaign is complete and playable. That doesn't mean the campaign is ready to be released, it means that we're entering the polishing stage. We have this huge folder full of bugshots (screenshots of bugs) to fix, we need to tweak the navigation of bots and infected, we need to throw a few animations here and there, and more importantly, we need to test it full-scale. We know for sure that the gameplay works quite well, but it won't hurt anyone.
Wooo, that was quite a long news. Now that you're all bored, you may need some new materials to cheer you up. So here's one overview and 20 new action screenshots of the last two maps, taken from of our last playtest.
I Hate Mountains Complete Campaign Overview (spoilers ahead, 875 KB). Now you can see how much work has gone into building different paths and ensure good re-playability.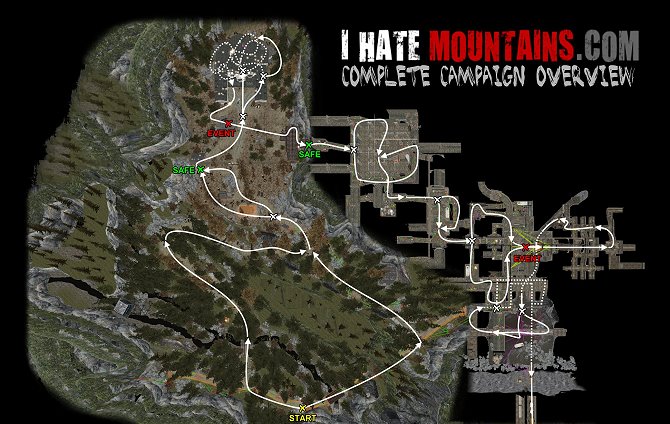 20 brand new action screenshots taken from the Lumberyard and Lakeside level during our last playtest (no spoilers here, don't worry).




















Until next time, Merry Christmas and a Happy New Year from the I Hate Mountains Team!