Beware, there has been a confusion between the Left 4 Dead 1 and Left 4 Dead 2 versions of the campaign on the ModDB.com mirror. If you had downloaded it for Left 4 Dead 2, you might have ended up with the Left 4 Dead 1 version. This issue is now fixed.
This is it! No, we ain't speaking about the Michael Jackson post-mortem movie but about the Left 4 Dead 2 version of I Hate Mountains subtly dubbed I Hate Mountains 2! We are hereby releasing the 1.2 version of both Left 4 Dead 1 and Left 4 Dead 2 versions of the campaign.
It certainly took time, almost 8 months… At the beginning, we honestly thought this port would be a piece of cake, but we just couldn't figure how difficult it would be and how life would change for each of us following the release of the first version. Between missing content, broken features, crashes and unexplainable issues, we were really this close to give up during these last months.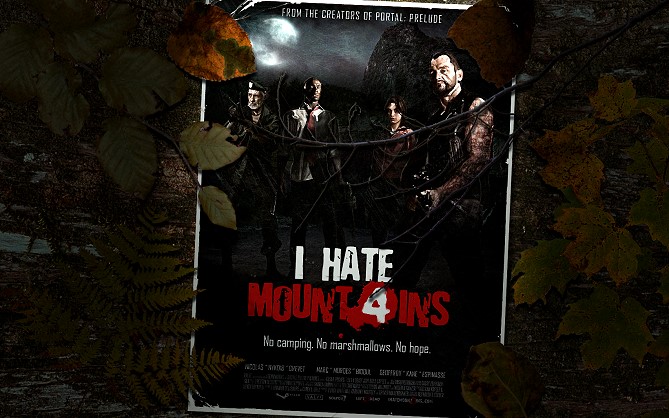 To be entirely honest, the 1.2 version for Left 4 Dead 1 was already finished for a few months (since august 2010 to be precise), but due to a huge lack of motivation (we're working on it for over 2 years now) and Nicolas' departure who decided to move and directly hate mountains in Canada, we had almost stopped the Left 4 Dead 2 port. But finally, we decided to keep going on when a Polycount manager asked for an interview and fresh news about it. We realized that some people were still waiting for the Left 4 Dead 2 version and we didn't want to disappoint them.
We worked hard on it and we managed to fix everything we could. But despite all our efforts, some minor issues remain unsolvable as of today. Those are actually listed on the I Hate Mountains forums and in the README.txt file included in the download. But you should still be able to play the Left 4 Dead 2 version in quite an optimal way compared to what we thought would be achievable. We really spent a lot of time to test the campaign with a fellow French gaming team which allowed us to fix plenty of unusual and rare exploits.
Finally, You should keep in mind that this new version of I Hate Mountains is really an exact port of the Left 4 Dead 1 version. We didn't spend much time tweaking the maps with the new available assets, but above all we didn't change our specific art direction (it's still dark). By the way, we thank Valve for the last DLC for both games that allowed us to use the old survivors in Left 4 Dead 2 and to preserve the true spirit of the campaign.

We hope you will enjoy I Hate Mountains again, be it with the updated Left 4 Dead 1 version or the new Left 4 Dead 2 one with all the features and improvements of the second game. You can enjoy it right now on this friendly French server: Left4dead2 'playersfactory' 109.239.147.182:27015
For help and support, please visit:
http://forums.ihatemountains.com
If you can't find help in the forums, you can try to drop us a word here:
http://www.ihatemountains.com/contact-us/
It's finally time for us to think about other things and return to our regular lives. Thank you for your support during these last two years and keep an eye open for more in an highly hypothetical future… :D
Best regards,
— The I Hate Mountains Team:
— Nicolas, Marc and Geoffroy
jimmy kimmel is a huge jerk to matt damon once againBefore I go further, do you remember "Gus," the Disney film that was released in 1976? This project was an American family comedy film directed by Vincent McEveety and starring Edward Asner, Don Knotts and Gary Grimes. Its center character is "Gus," a football playing mule. The film did well at the box office and was released on home video in 1981. The movie is remembered for two sequences involving a hotel and a supermarket.The brain is the mastermind behind a healthy body. Even a small damage to it is likely to hamper
Replica Oakley Sunglasses
the normalcy of other nerves in the body. Whenever there is a head injury, the first sign indicating the anomaly is the 'headache'. This affliction is most common in athletes who encounter unexpected accidents every now and then during their sports activities. It can linger for a small duration of time, and there is no loss of consciousness in this type. This is most likely to happen in cases of minor mishaps. First aid is the immediate medical help in such cases.And you contrast that with the utter hypocrisy and cant of the Baseball Hall of Fame where they talk all about oh, no, Mark McGwire, Barry Bonds,
http://www.ray-banbaratas.top
steroids, they could never be in the Hall of Fame. Meanwhile, you have Tris Speaker in the Hall of Fame, who was in the KKK. You've got Ty Cobb in the Hall of Fame, who once beat up a crippled fan in the stands for saying that he had African American blood in his body.Some ways, it not much different than a team taking out a loan to sign a star, said Marc Edelman, who teaches sports law at City University of New York. spend now and deal with paying later. the same time in baseball, the advent of free agency led to a flood of contracts with deferred money as teams searched for ways to absorb larger and longer deals. Acceptance of the deferrals began
Cheap NFL Jerseys
to wane when teams wouldn offer interest on the later payments.He notes that he won't "mess" (baby talk for "shitting yourself") in public because it's not as easy to hide, "too weird, and hard to clean up." That's one important drawback of answering nature's call with a big middle finger: "You need to know about proper care," Sammy says. "If people don't clean up often enough or well enough, they get UTIs. A lot more care [is required] for vagina owners, because it's easier for bacteria to get in." For this reason, "A fair amount of people, but not as common, will do number two," she says. "Cleanup can be a very big job."According to surveys, the
http://www.cheapnfljerseysx.com
Cheap ray bans
average age at which diaper wearers begin to indulge themselves is 11 for boys and 12 for
Oakley Sunglasses Outlet
girls. That makes a bizarre kind of sense. That's old enough to start freaking out about that whole "responsibility" thing, but still young enough to vaguely recall how cool it was not getting up to poop. Everyone we spoke to reported being into diapers for as long as they could remember: Sammy was two,
wholesale football jerseys
James was six, Riley was around four or five (and turning her underwear into diapers by stuffing them with napkins).