Beware, there has been a confusion between the Left 4 Dead 1 and Left 4 Dead 2 versions of the campaign on the ModDB.com mirror. If you had downloaded it for Left 4 Dead 2, you might have ended up with the Left 4 Dead 1 version. This issue is now fixed.
This is it! No, we ain't speaking about the Michael Jackson post-mortem movie but about the Left 4 Dead 2 version of I Hate Mountains subtly dubbed I Hate Mountains 2! We are hereby releasing the 1.2 version of both Left 4 Dead 1 and Left 4 Dead 2 versions of the campaign.
It certainly took time, almost 8 months… At the beginning, we honestly thought this port would be a piece of cake, but we just couldn't figure how difficult it would be and how life would change for each of us following the release of the first version. Between missing content, broken features, crashes and unexplainable issues, we were really this close to give up during these last months.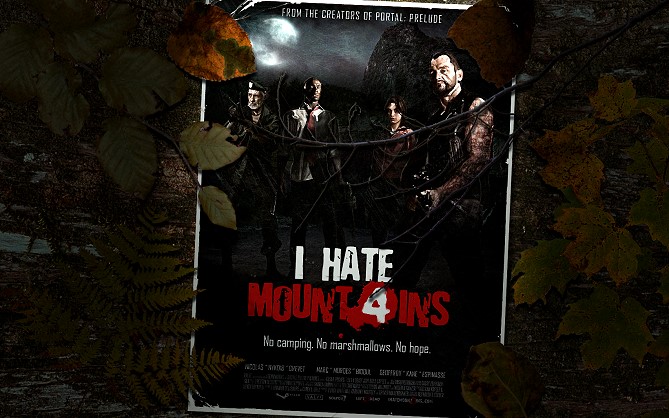 To be entirely honest, the 1.2 version for Left 4 Dead 1 was already finished for a few months (since august 2010 to be precise), but due to a huge lack of motivation (we're working on it for over 2 years now) and Nicolas' departure who decided to move and directly hate mountains in Canada, we had almost stopped the Left 4 Dead 2 port. But finally, we decided to keep going on when a Polycount manager asked for an interview and fresh news about it. We realized that some people were still waiting for the Left 4 Dead 2 version and we didn't want to disappoint them.
We worked hard on it and we managed to fix everything we could. But despite all our efforts, some minor issues remain unsolvable as of today. Those are actually listed on the I Hate Mountains forums and in the README.txt file included in the download. But you should still be able to play the Left 4 Dead 2 version in quite an optimal way compared to what we thought would be achievable. We really spent a lot of time to test the campaign with a fellow French gaming team which allowed us to fix plenty of unusual and rare exploits.
Finally, You should keep in mind that this new version of I Hate Mountains is really an exact port of the Left 4 Dead 1 version. We didn't spend much time tweaking the maps with the new available assets, but above all we didn't change our specific art direction (it's still dark). By the way, we thank Valve for the last DLC for both games that allowed us to use the old survivors in Left 4 Dead 2 and to preserve the true spirit of the campaign.

We hope you will enjoy I Hate Mountains again, be it with the updated Left 4 Dead 1 version or the new Left 4 Dead 2 one with all the features and improvements of the second game. You can enjoy it right now on this friendly French server: Left4dead2 'playersfactory' 109.239.147.182:27015
For help and support, please visit:
http://forums.ihatemountains.com
If you can't find help in the forums, you can try to drop us a word here:
http://www.ihatemountains.com/contact-us/
It's finally time for us to think about other things and return to our regular lives. Thank you for your support during these last two years and keep an eye open for more in an highly hypothetical future… :D
Best regards,
— The I Hate Mountains Team:
— Nicolasvegas, Marc and Geoffroyware, there